Mk Pure Penis Increasing Enlargement Oil
MK Pure Authentic Male Herbal Penis enlargement oils help with permanent thickening and growth of the penis. It also helps to delay ejaculation.
This natural supplement oil helps boost sexual responsiveness, it is easy to use and gentle on the skin. Can use alone or in addition to other massaging substances.
As a matter of fact, its function does not end with increasing penis size, it can also be used to improve libido as well as support stamina. Similarly, MK Pure Natural Penis Enlargement Oil is the best supplement so far for men's penis enlargement. 
MK Pure Men's penis enlargement essential oil is the best there is in the market. This product stimulates the cavernous smooth muscle and lacuna to effectively improve blood circulation and therefore, promote the therapeutic efficacy of the male organ.
MK Pure essential oil is made from pure natural plant extracts with effective ingredients specially crafted, with nano processing to speed up the circulation of blood within the penis, provide the necessary nutrients for the penis and testicles, expand blood volume, stimulate the sponge, and stretch tendons. MK Pure Natural Penis Enlargement Oil is the best alternative for men.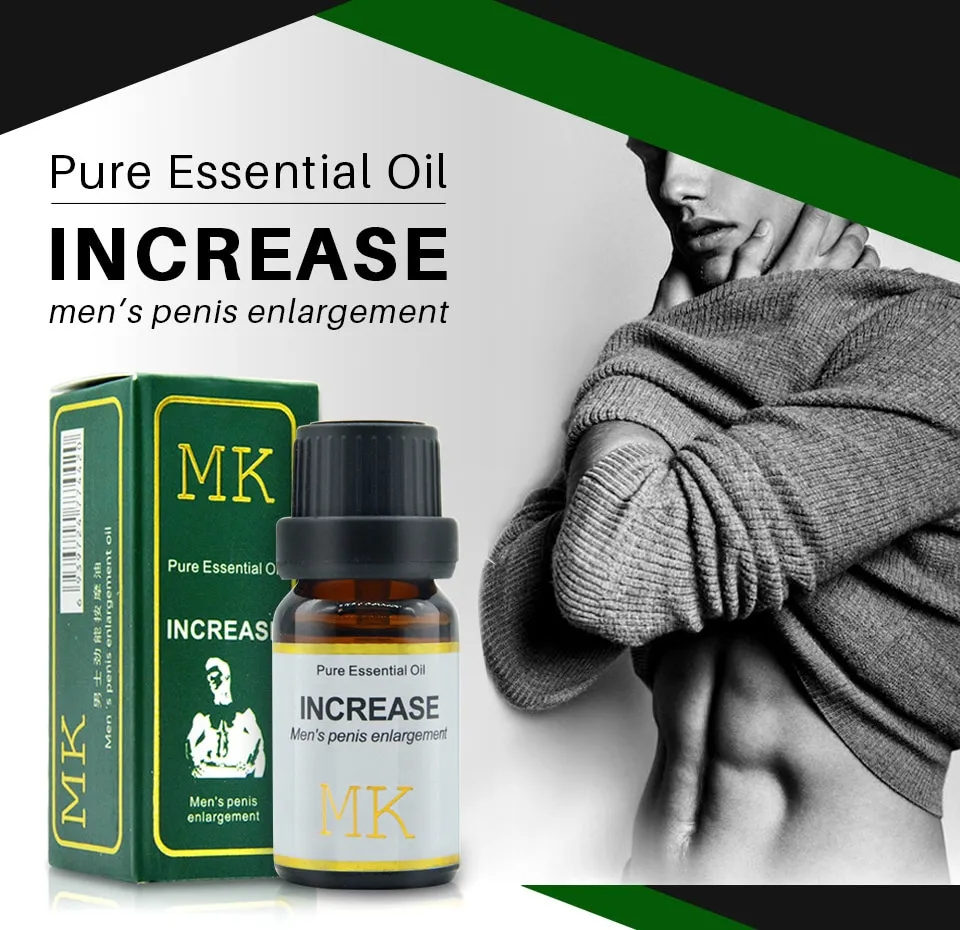 ---
Benefits of MK Pure Enlargement Oil
Helps to get rid of quick ejaculation effectively and other erections dysfunction caused by physical/psychological factors
Substantial increase in penile/penis length; the effect is significant growth above 40%
Substantial increase in the hardness of the penis with a strong and powerful erection
Increased/Intense sexual pleasure for you and your partner
Aids in curing impotence and erections dysfunction
Boost sex life and performance.
Other Benefits
MK penis enlargement oil also cures quick releases otherwise known as premature ejaculation.
It gives a longer, thicker & harder long-lasting erection.
Suitable for all skin types.
No side effects.
---
Key Ingredients
Chive seed, Jasmine, Jojoba, Actinolite, Epimedium, and Grapeseed
---
How The Product Works During Usage
Stage 1:
1-4 Weeks "The MK essential oil works for penis adjustment from 0.25 to 0.5cm"
Stage 2:
4-8 Weeks "The Penis enlargement is in a probationary period, enlargement by 0.9cm to 2.0cm"
Stage 3:
8-12 Weeks "The Penis is now longer, thicker & stronger, enlargement is now very visible and obvious as it enlarges by about 2.5cm to 4cm."
Stage 4:
12-16 Weeks "This is the consolidation or concluding phase of the male organ enlargement, the penis enlarges by 30% or by 5cm to 7cm."
Order today and enjoy what you have been missing for ages!
---
Dosage/How To Use MK Pure Penis Enlargement Oil
Apply on the penis Once or twice daily.
3If you want to use it as a remedy to prevent Premature ejaculation, apply it 1 hour before sex.
If you are using it to increase or enlarge your Penis size, use it every day for 3 months.
---
Quantity
Contains 15ml fluid Ozs per container.
---
Recommendations
For penis size enlargement, It is recommended you use at least 3 bottles of this supplement for a duration of not less than 3 months for a permanent lasting result.
---
Suitable for