LIVEGOOD DAILY ESSENTIALS PACK
Bio-Active Complete Multi-Vitamin is a special type of supplement that is designed to provide men and women with all the essential vitamins and minerals that their bodies need to stay healthy. Generally, This supplement is made from a unique blend of natural ingredients that are carefully selected to ensure maximum absorption and effectiveness.
Undoubtedly, The Bio-Active Complete Multi-Vitamin supplement contains a wide range of vitamins, including Vitamin A, C, D, and E, as well as all the B vitamins. Additionally, It also contains important minerals such as zinc, calcium, and magnesium. In addition, these vitamins and minerals work together to support a healthy immune system, maintain healthy bones and teeth, and promote healthy brain function.
Furthermore, LIVEGOOD DAILY ESSENTIALS PACK the supplement is carefully formulated to meet the specific nutritional needs of men and women, making it a great choice for anyone looking to support their overall health and well-being.
Moreover, D3-K2 LiveGood is a special kind of vitamin that helps your body grow strong and healthy! It's made up of two vitamins called vitamin D3 and vitamin K2, which work together to keep your bones and teeth strong.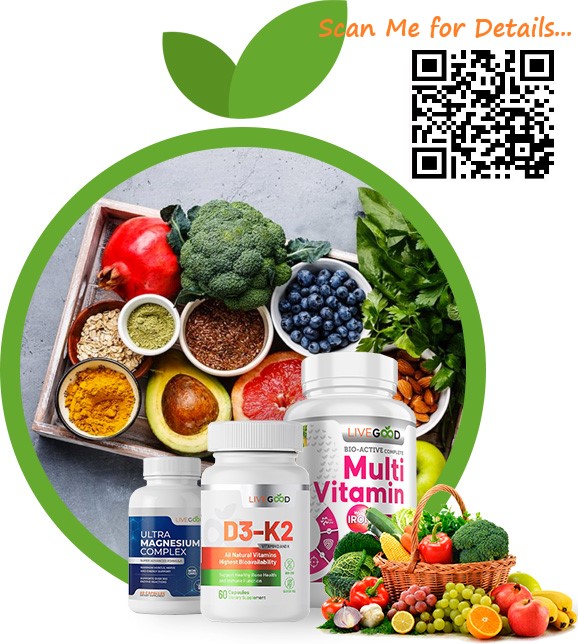 Health Benefits Of Daily Essentials Pack
Firstly, boosts immune function.
Secondly, Improves cognitive function.

It also promotes heart health.

Thirdly, reduces inflammation.
Supports bone health.
Helps regulate blood sugar.
Supports eye health.
Improves energy levels.
Lastly, reduces the risk of nutrient deficiencies.
The Package Contains
Bio-Active Complete Multi-Vitamin For Men or Women
D3-K2
Ultra Magnesium Complex
Quantity
Dosage/How To Use
Recommendations
Use up to 2-3 containers for good results
Suitable